Hot TOPICS
The Wall
(October 26, 2012)
---
A court battle with a difference by a small community in the town centre of Warminster that thought it had its backs to the wall have won their case this week.
Residents at Ridgeway Court have won the argument as a planning case officer at Wiltshire Council agreed with theithem supported by highways experts that a wall should not be demolished by a property developer.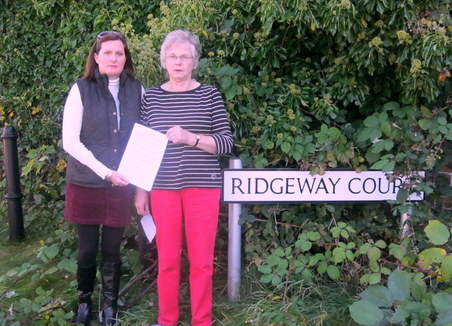 "On the face of it this looked like a simple thing removing a wall but it was really about the effect it would have on our small community," said one resident welcoming the news.
"I am delighted with this result but we all now want to return to being a quiet community again."
The developer had wanted to demolish the wall to give access to parking spaces that were not in the original plan.
The bricks and mortar that seperates the small cul-de-sac from a nearly completed building site in Carson's Yard was built at the insistance of the council at the time of the original planning permission.
A resident of The Ridgeway , Cllr Andrew Davis, promised residents at a town council meeting that he would use his power to have it called in but it was the planning case officer who decided to refuse the application.
There were three reasons for refusal backing up the residents campaign which included a petition from 15 of the 16 households in Ridgeway Court presented by Margaret Broughton (pictured with Maya Fox).
It was refused as Carson's Yard development was a 'car free' scheme, vehicles reversing for 'significant' distances in an unsuitable way.
The change would add to the parking problems, and a policy that safeguards the amenity of a neighbourhood from the old district council plan.
"Thank you," said Margaret Broughton. "I had been told that as the wall was owned by the developers there was nothing could be done by planners.
"I feel that fairness, safety for all, and common sense has won the day and am very pleased for our community."
The petition was also signed by deputy Mayor Cllr. Paul Batchelor and former deputy Mayor Paul Macdonald.
"This is the absolutely right result as planners who give permissions for specific reasons stick by their guns," said Paul Macdonald.
"This was a development permitted because it did not need the parking spaces that the knocking down of this wall would have provided. "