Hot TOPICS
Walk the Walk Avenue Again Demand
(April 26, 2015)
---
Ask most Warminster residents about the idea to flatten a route through to the Avenue School to build a major road and most would be stopped in their tracks for a few moments.
A Warminster resident, also stopped in her tracks when she read about this in an urgent Independent councillors letterbox leaflet, organised a day of action.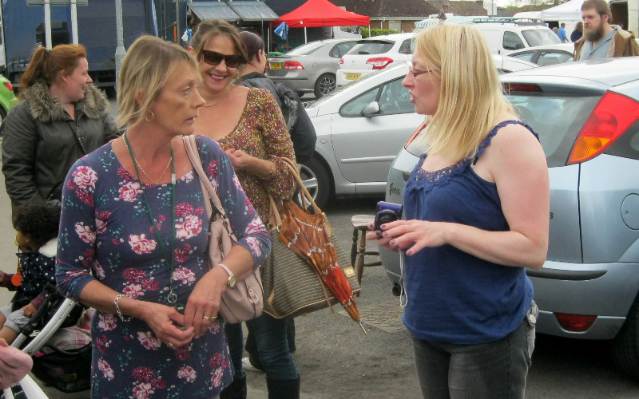 Tracy Scott (pictured )quickly switched on a would-be MP passer-by and many Avenue users to her cause as she launched her petition single-handedly close to a junior school.
"I feel that Friday was both a success and very productive," said Tracy Scott. "My aim was to spread awareness.
"We had 73 people turn up and ask to sign the petition," added a delighted Mum.

"I wanted to give everyone a voice and encourage local people to have their say and save the Avenue friendly lane.
"We provided information on the neighbourhood plan and the link road.
"We had a petition for people to sign if they wished to do so. We gave out response forms and leaflets giving people an honest and informed choice."
Walk the Walk 'Loquango' Idea
The town council heard complaints about the work of the neighbourhood plan working group at their annual parish meeting on the Monday of the week of the 'day of action'. (see hot topics and hot snippets).
"My view now is that we ask all those that subscribe to this idea, whether they be members of the group responsible including officers that attended, shadow councillors and their council officers, and former councillors and others that belong to loquangos to join Tracy and residents to walk the walk and cycle along here," says town Cllr. Paul Macdonald.
The public that turned up on Friday included those pushing buggies, those riding in wheelchairs and those riding their bicycles.
"I would like to say a big thank you to everyone who came and even to those who wanted to but couldn't," adds Tracy Scott.
"So many people came, those with ill-health and disabilities and mobility difficulties, the elderly, parents with babies and young children.
"They were joined by cyclists including one I think was Gordon Davies from the Warminster Wobble."
National and Local support
As a Portway resident carer for a member of her family' and also a qualified carer in a residential home for the elderly, Tracy told the throng on Friday that she may soon be needing the Avenue as a safe route for a wheelchair again.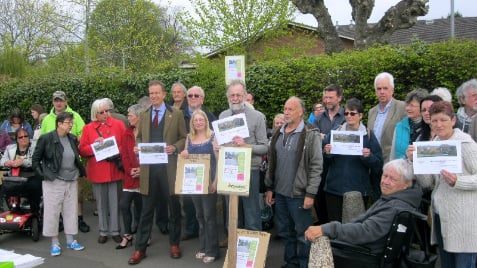 Tracey then said: "Local councillor Paul Macdonald and Matthew Brown have been an amazing support.
"It's thanks to them that today was possible and others that got involved to help me like my boyfriend Paul Tiller and my daughter who helped design the posters and print stuff.
"Another local councillor Nick Dombkowski kindly got us strawberries from the market on his way to sign the petition.
" I have never done anything like this before but it just feels right to do so."

Tracy, sitting side by side with Nick, continued her campaign on the radio waves at Warminster Community Radio on Saturday morning interviewed by station chief Barry Mole.
* Paul describes the rise of the wide variety of local groups that have been formed in the last decade that act as 'quangos' by the word Loquango. A quango is a Quasi-autonomous non-governmental organisation.