Hot TOPICS
New Chance To Save Hopper Bus
(January 22, 2016)
---
Warminster town councillor Paul Macdonald continues his save the RUH Hopper bus campaign despite the announcement this week that negotiations between Wiltshire Council and a part of the NHS that funded it have broken down.
"I believe that this is a vital service for our communities and no stone should left unturned in finding a way forward," said Warminster Town Councillor Paul Macdonald.
"I believe we must find a way to save this service or we face Warminster once again becoming the cinderella town as a result of decisions being taken at county hall,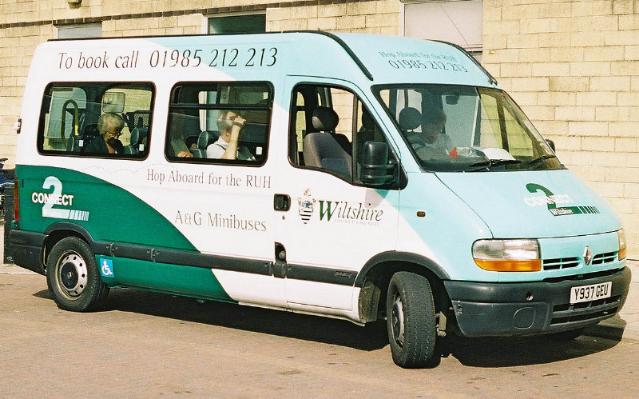 "What has also surprised me is how much our neighbouring town of Westbury relies on this."
The town councillor had put on hold pursuing his notice of motion that he first tabled last year but will now be bringing ideas back to committee there.
Cllr. Macdonald has today sent a letter outlining his ideas by e-mail to the leader of Wiltshire Council Baroness Jane Scott:
'Dear Baroness Scott,

Re The RUH Hopper Bus Service

I am a Warminster Town Councillor and have been awaiting the outcome of the discussions between yourselves and the NHS.

I have been investigating a new option that could provide a positive way forward for Wiltshire Council and the future of the Hopper Bus.

In the Wiltshire Times today you are quoted as saying "It is a very simple message: we would have part funded it if the CCG were willing to put other money into the service."

I can suggest an alternative to the CCG. It is our local town and parish councils.

I am happy to draw up a proposal that would use a formula of usage by each town and parish to ask them to make a financial grant towards the annual running cost.

I would ask you to arrange for this idea to be put on the agenda of each of the following area boards which have needed the RUH Hopper bus service.

They are Bradford-on-avon, Chippenham, Corsham, Devizes, Melksham, Warminster and Westbury.

In the meantime I would welcome the opportunity to meet with you, the cabinet member or the passenger transport manager to chat this over at the earliest opportunity.

It would be helpful to know if the future arrangement which you hoped to see with the CCG was on a 50-50 basis.

I have begun discussions with the owners of A & G mini-buses who provide the service, local councillors and residents about this idea and so far the feedback has been positive.

Thanking you for your attention to this.'

"I think this is a good way forward and my initial research shows that a village like Corsley would just need to contribute £50 each year to keep the RUH Hopper Bus going," adds Cllr. Macdonald.
"I am hoping that parishes would be interested on that basis."